HADDOCK
HADDOCK
High Ambiguity Driven biomolecular DOCKing
based on biochemical and/or biophysical information.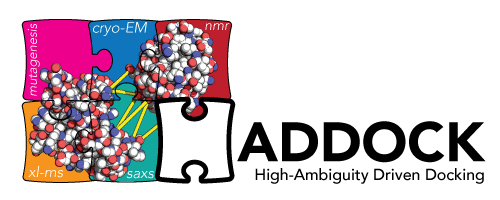 Version: 2.4 (January 2023) (changes)
Authors: Alexandre Bonvin and members of the computational structural biology group, Utrecht University
Contact:
Bijvoet Center for Biomolecular Research
Padualaan 8, 3584 CH Utrecht, the Netherlands
Email: a.m.j.j.bonvin@uu.nl
Phone: +31-30-2533859 Fax: +31-30-2537623
HADDOCK is one of the flagship software in the EU H2020 BioExcel Center of Excellence for Biomolecular Research

---
HADDOCK2.4 manual: https://www.bonvinlab.org/software/haddock2.4/manual
HADDOCK2.4 webserver: https://wenmr.science.uu.nl/haddock2.4
Getting the software: license form
Questions about HADDOCK or looking for support? Ask BioExcel
HADDOCK best practice guide - A must read when starting to use our software!
An introduction to HADDOCK2.4: View the SBGrid [webinar]:
(https://www.youtube.com/watch?v=PDfFOUqdt5I) (June 29th, 2021).
Two lectures about integrative modelling and HADDOCK: Recording of a lecture by Prof. Bonvin at the 2021 BioExcel summerschool:
View recorded lecture Part I (46 min.)




View recorded lecture Part II (43 min.)



---
Publications:
When using HADDOCK cite:
Cyril Dominguez, Rolf Boelens and Alexandre M.J.J. Bonvin. HADDOCK: a protein-protein docking approach based on biochemical and/or biophysical information.
J. Am. Chem. Soc. 125, 1731-1737 (2003).

G.C.P van Zundert, J.P.G.L.M. Rodrigues, M. Trellet, C. Schmitz, P.L. Kastritis, E. Karaca, A.S.J. Melquiond, M. van Dijk, S.J. de Vries and A.M.J.J. Bonvin. "The HADDOCK2.2 webserver: User-friendly integrative modeling of biomolecular complexes."
J. Mol. Biol., 428, 720-725 (2016).
For additional citations when using specific modules see also our publication page.
---
Acknowledgments:
HADDOCK is derived from ARIA scripts by Michael Nilges and Jens Linge.
The ongoing development of HADDOCK is the result of a team effort and in particular contributions from Cyril Dominguez, Aalt-Jan van Dijk, Sjoerd de Vries, Marc van Dijk, Ezgi Karaca, Panagiotis Kastritis, Adrien Melquiond, Mikael Trellet, Gydo van Zundert and Joao Rodrigues are acknowledged.
---
... more than fish or software..., discover the "capitaine" ...

Copyright © Hergé Moulinsart 2003